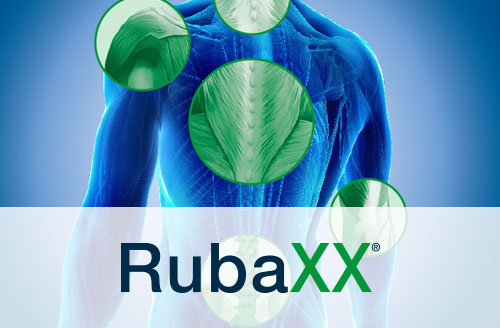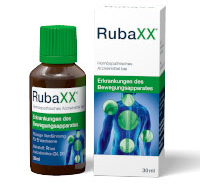 RubaXX® are the No. 1* pharmaceutical drops for the treatment of rheumatic pain in bones, tendons and muscles in Germany. As a natural alternative to chemical painkillers, RubaXX® has no known severe side effects or interactions. Furthermore, the drops allow an individual dosage depending on the intensity of the pain.
RubaXX® Duo is the advancement of the successful no. 1* medicine drops RubaXX®. The drug contains a unique dual-complex of two natural active ingredients, is well tolerated and can be dosed individually thanks to its liquid form.
The pharmaceutical drops RubaXX® Arthro specifically combat arthrosis, the most common wear and tear disease of the joints. In addition, RubaXX® Arthro is well tolerated and suitable for use in chronic pain.
RubaXX® Schmerzgel contains the proven active ingredient T. quercifolium, which has already demonstrated its effectiveness in the No. 1* pharmaceutical drops RubaXX® for improving rheumatic pain and the consequences of injuries and overexertion. In contrast to many gels that contain chemical active ingredients, RubaXX® Schmerzgel offers effective help from nature.
RubaXX® Gicht is particularly effective for joint inflammation in rheumatism and gout. It contains colchicine, which is recommended in the guideline of the German Society for Rheumatology (DGRh) for patients with gout**. RubaXX® Gicht is not only effective, but also well tolerated.

RubaXX® MONO is a pain relief tablet with a special active ingredient that provides relief from rheumatic pain in joints and muscles as well as from the consequences of injuries and overexertion. RubaXX® MONO works naturally and is well tolerated.

RubaXX® Cannabis Öl is obtained from the seeds of a special cannabis plant. The dietary supplement also contains vitamin D for the maintenance of normal muscle function, normal bones and a normal immune system. Vitamin E also protects the cells from oxidative stress. The cannabis oil is available over the counter in pharmacies.
The RubaXX® Cannabis CBD Gel cosmetic is the first cannabis gel with approximately 600 mg CBD. It also contains cooling menthol and mint oil for stressed muscles. The gel is manufactured under the highest German quality standards and is suitable for daily use.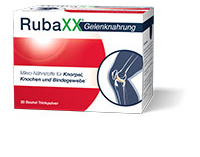 RubaXX® Gelenknahrung is an intelligent micronutrient complex with four important joint building components as well as 20 selected minerals and vitamins. These promote the function of cartilage and bones (for example, ascorbic acid) and contribute to the maintenance of normal bones (for example, phylloquinone).
The special food supplement RubaXX® KD contains the important "bone vitamins" K and D, which play an essential role in maintaining healthy bones.

*for rheumatic pain; sales by pack, source: Insight Health, MAT 03/2020
**Kiltz U. et al., Gichtarthritis – fachärztlich, S2e-Leitlinie, 2019, at: Deutsche Gesellschaft für Rheumatologie (Hrsg.), Evidenzbasierte Leitlinie der Deutschen Gesellschaft für Rheumatologie (DGRh).